*CLOSED* Giveaway Alert: Black Girl Digital Inspires 2020
Updated: Jan 21, 2020
2020 is finally here and as we embark on a new decade, many of us are setting goals and affirming to ourselves that it will come true. Between the books, podcasts, and videos about actualizing your dreams, sometimes we need a more intimate connection with the tools and mindset needed to find our focus in a way that is both positive and healthy.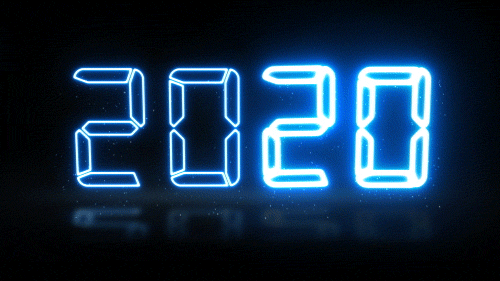 For the past 4 decades, there is one woman who has single-handedly revolutionized journalism, altruism, and even how we see ourselves. Her transparency and vulnerability astonished the masses, as she created spaces for people to come and do the same. To this day #Oprah Winfrey still uses her platform to uplift, inspire, and empower not only black women but women of all ethnicities. When you look at all of her accomplishments, it is clear that she has a distinct vision for herself and the world around her.
Are you currently a student? Want to be laser-focused and in tune with your wellness like Oprah? Well, 2020 just might be the year you hear it straight from her as Black Girl Digital will be giving One (1) Lucky Winner the opportunity to see Oprah speak at her 2020 Vision Tour: Your Life in Focus at the Barclays Center in Brooklyn, NY on February 8th, 2020 with the CEO of Black Girl Digital Latoya Shambo. Oh, and did we mention that Micheal Obama will be the special guest speaker and it's SOLD OUT? #oprahtour2020 #BlackGirlDigitalInspires2020
Tell a friend to tell a friend about #BlackGirlDigitalInspires2020 and read below for the rules and guidelines on how to enter or ENTER HERE.
Sweepstakes Official Rules
NO PURCHASE NECESSARY TO ENTER OR WIN
Purchase does not increase the chance of winning.
The prize: One (1) Ticket to WW Presents "Oprah's 2020 Vision: Your Life in Focus" Tour in Brooklyn, NY, plus transportation and accommodations (if applicable), Dinner with the Black Girl Digital team, and a Black Girl Digital Swag Bag. No cash or other prize substitution permitted except at Sponsor's discretion. The prize is non-transferable. Any and all prize-related expenses, including without limitation any and all federal, state, and/or local taxes shall be the sole responsibility of the winner. ARV: $2,500
How to enter: You may enter the Sweepstakes
1.) Follow us on all platforms: @blackgirldigitalinc in Instagram | @blkgirldigital on Twitter | @blackgirldigital on Facebook
2.) Like our Giveaway post on Instagram
3.) Post Your MOST Inspiring photo on campus (with you in it) to Instagram, Facebook, or Twitter and Tag your University/College, your roommate(s), and don't forget our hashtag #BlackGirlDigitalinspires2020
You can also find the application on the "Black Girl Digital Inspires 2020" tab on our website at www.blackgirldigital.com/bgd-giveaway for an extra way to enter and verify your college or university status.
4. (Bonus Entry) Fill our entry form HERE
Alternate means of entry: Mail a 4" x 6" card with the following information:
Your full name
Your complete address
Valid email address (if you do not have an email address, print "no email address")
Valid telephone number
The words Black Girl Digital Inspires 2020 Giveaway
Mail entry to:
ATTN: Black Girl Digital/ Primary NYC/ Bleu Life Media 26 Broadway 3rd Floor New York, New York 10004
Only one entry card will be accepted per person. All entries become the exclusive property of Sponsor and will not be acknowledged or returned.
Terms and Conditions
By submitting an entry, you fully and unconditionally agree to and accept these Official Rules.
Sweepstakes entries are limited to the United States and are void where prohibited. All federal, state and local laws and regulations apply. Subject to any governmental approval that may be required, Sponsor reserves the right to, without prior notice and at any time, terminate the Sweepstakes, in whole or in part, or modify the Sweepstakes in any way, should any factor interfere with its proper conduct as contemplated by these Official Rules. Sweepstakes will begin on January 1, 2020, at 9:00 am EST and end January 20, at 11:59 pm EST. Sponsor reserves the right in its sole discretion, to cancel the sweepstakes in its entirety or only the online portion if it becomes technically corrupted or because of non-authorized human intervention.
Eligibility. The contestant must be a registered university/college student at the time of entry. Entries must be taken within the 2019-2020 school year. Must be at least 18 years old to enter. Employees, officers, or directors of Sponsor, its parent companies, affiliates, subsidiaries, and their children, parents, spouse, and members of their household are ineligible to participate. No purchase or online entry necessary. Sweepstakes is open only to legal residents of the United States. A purchase does not enhance your chance of winning.
The effective date of entries. Entries made online will be effective on the day received. Entries submitted by mail will be effective on the date Sponsor receives and processes the entry. All entries become the exclusive property of Black Girl Digital, Inc. and will not be acknowledged or returned. You are responsible for your costs of entering, including online access charges, long-distance telephone charges, and postage.
Selection of winners. One (1) winner will be determined by a random drawing from all eligible entries received. Drawings will be held 48 hours after sweepstakes close. Winner must agree to the use of their names, voices, and/or likeness for the purpose of advertising, trade, or promotion without further compensation, unless prohibited by law.
Notification of winner. One (1) random Sweepstakes winner will be notified by email. If not by email than by phone or mail, if applicable. An email will be sent to the winner within 48 hours after the sweepstakes close. All decisions are final and binding. Should the email be returned to the Sponsor as invalid, two more attempts will be made via email and one by regular mail if applicable. Winner must contact the Sponsor within 5 calendar days from the date the notification is sent by Sponsor to claim their prize. Failure to contact Sponsor within that5 day period will result in immediate disqualification of the selected entrant and a new winner will be selected. No exceptions will be made to this rule. Sponsor is not responsible for and shall not be liable for late, lost, misdirected, or unsuccessful efforts to notify winners.
Odds of winning. The odds of winning any drawing will be determined by the number of eligible entries received.
In the event of a dispute regarding who submitted an online entry, the entry will be deemed submitted by the authorized account holder of the email account.
Other conditions. Sponsor, its agents and representatives, its parent companies, affiliates, subsidiaries, advertising, promotion, and fulfillment agencies and legal advisors are not responsible for and will not be liable for (I) late, lost, damaged, misdirected, incomplete, unintelligible or postage-due entries; (II) telephone, electronic, hardware or software program, network, Internet or computer malfunctions, failures or difficulties of any kind; (III) failed, incomplete, garbled or delayed computer transmissions; (IV) any condition caused by events beyond the control of Sponsor that may cause the Sweepstakes to be disrupted or corrupted; (V) any injuries, losses or damages of any kind arising in connection with or as a result of the Sweepstakes, or from participation in the Sweepstakes; or (VI) any printing or typographical errors in any materials associated with the Sweepstakes.
Indemnification. You agree to release and hold Sponsor, its employees, officers, directors, shareholders, agents, representatives, parent companies, affiliates, subsidiaries, advertising, promotion and fulfillment agencies, and legal advisors, harmless from any and all losses, damages, rights, claims, and actions of any kind in connection with the Sweepstakes, including without limitation, personal injury, death and property damage, and claims based on publicity rights, defamation or invasion of privacy. This sweepstake is in no way sponsored, endorsed or administered by, or associated with, Facebook. You understand that you are providing your information to Black Girl Digital, Inc. and the sweepstakes sponsor, not to Facebook.
Choice of law. All issues and questions concerning the construction, validity, interpretation, and enforceability of these Official Rules, or the rights and obligations of you and Sponsor in connection with the Sweepstakes, will be governed by and construed in accordance with, the substantive laws of the NY
#oprahgiveaway #instagramcontest #instagramgiveaway #giveaway #contestgiveaway #oprah #hbcu #colleges #universities #BGDOprahGiveaway #blackgirldigitalImpact
#BlackGirlDigitalOprahGiveaway #BlackGirlDigitalInspires2020
Auset Parris - Black Girl Digital Writer